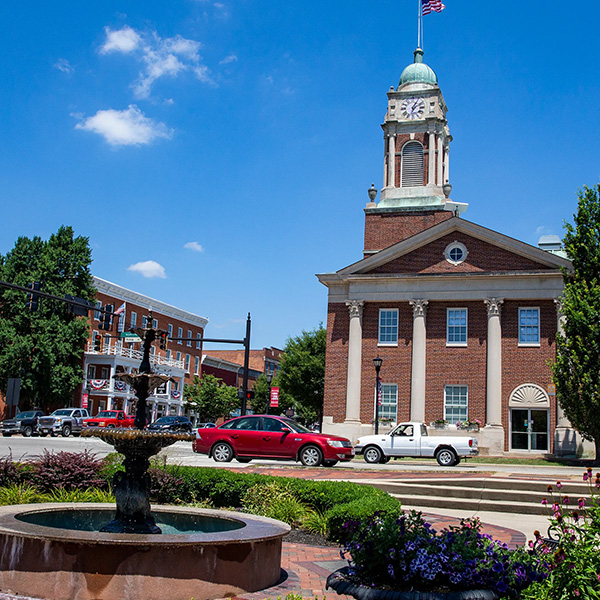 Getting to Know Lebanon, Ohio
When Lebanon was laid out in 1802, only two houses stood and two streets ran through town. Early settlers to the area thought the trees covering the hillside were like those in the Middle Eastern country of Lebanon; thus, came about Lebanon's name and nickname "Cedar City."   
Lebanon and its citizens have played an active role in guiding the history of the country. Native son Tom Corwin was the 12th governor of Ohio, U.S. Senator, U.S. Secretary of Treasury and U.S. Minister to Mexico. John McLean, member of the cabinets of both President Adams and Jackson and an associate justice of the U.S. Supreme Court. Additionally, the city's landmark, Golden Lamb Inn, opened in 1803, and is still operating in its original location.
Today, Lebanon sets the benchmark for innovation. As the City looks ahead, quality economic development, sound infrastructure, outstanding recreational opportunities, a vibrant downtown, and strong financial management are key priorities.
Lebanon is located midway between the Cincinnati and Dayton metropolitan areas. Two major interstate highways are readily accessible including I-75, located seven miles west of the city, and I-71, which borders the city to the south.  The community is also served by county and state highways, including Routes 48 and 42, which run north and south, and Routes 63 and 123, which run east and west.  This central location offers an unhurried lifestyle in a quiet country setting, while providing convenient access to a wide range of regional amenities, attractions and services in nearby metropolitan areas.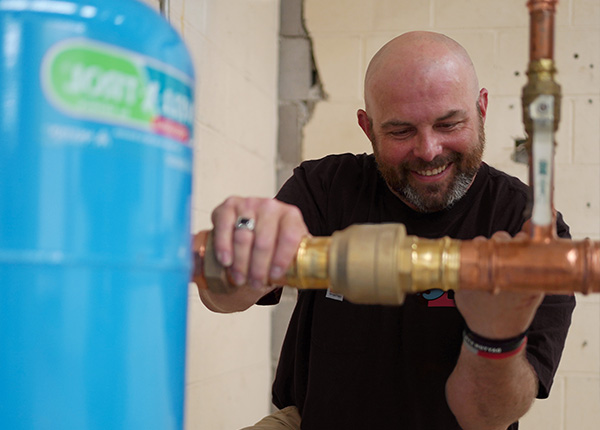 Why Trust Lebanon Plumbing & Drain for Your Plumbing Needs?
Lebanon Plumbing & Drain is a locally owned and operated plumbing company serving Lebanon, Ohio. We're licensed and insured, a member of the Better Business Bureau and the National Association of Plumbing and Mechanical Officials (NAPMO), as well as the Ohio State Plumbing Contractors Association.  Lebanon Plumbing & Drain has been in business for over ten years, so you can trust that we know what we're doing when it comes to plumbing needs for your home or business. 
As you can see, Lebanon Plumbing & Drain is here to help. We have a great team of plumbers and drain cleaners who are experts at handling any plumbing problem. Whether you need a new water heater or some bathroom renovations done, we will be there for you! Lebanon Plumbing & Drain is a local company that has been serving the Lebanon community for over 10 years. We recognize the importance of being approachable and easy to work with, which makes us a great choice to handle your plumbing issues. We also offer honest and reliable service, along with a high level of customer service that ensures you get exactly what you want from your new plumbing system. Our technicians are trustworthy, knowledgeable, and experienced in all aspects of plumbing work--and they're punctual too! 
If you've had bad experiences with previous contractors or just don't have time to deal with recurring clogs or leaks around your home, call Lebanon Plumbing & Drain today at (513) 427-2443 for fast resolution at an affordable price! 

Schedule A Service Today!
Schedule an appointment today!
Request A Free Plumbing Estimate in Lebanon
Whether your drain is clogged, you have a leak, or simply need help with your sump pump or septic system, it's important to hire an experienced plumber that can do the job efficiently. As a local, family-owned and operated plumbing company, your friends at Lebanon Plumbing & Drain are trained extensively to handle all types of plumbing emergencies and plumbing work. We send out only the best. Each and every plumber on our staff is licensed, bonded, and fully insured. This allows us to guarantee quality work and offer the highest quality plumbing products at the most competitive prices.